Portsmouth RC Diocese act as the lead sponsor for 2 refugee groups working with the Home Office within their Community Sponsorship Scheme to resettle families fleeing from the Syrian crisis.
Caritas Portsmouth looks after these volunteer groups who are based in parishes in the diocese but in addition have wider external connections.
Setting up these volunteer groups to be safe, sustainable and able to deliver support to the families takes considerable effort and organisation. Caritas Portsmouth is delighted to be working closely with the relevant local authorities and with CSAN to deliver this project.
We currently have two active Community Sponsorship projects working in the diocese. One group has received their family and are now in the delivery phase of supporting a family recently arrived from a Syrian refugee camp. This work involves assistance in obtaining access to medical services, schools for the children, employment and training. And this is all additional to the work to aid the family in settling into a very different cultural setting.
Our second group has completed the first phase of group formation, fund raising, application to the Home Office scheme, police and local authority checks, identification and purchase of the house, and all the other infrastructure work that is required before a family can be welcomed. Our second family is expected soon.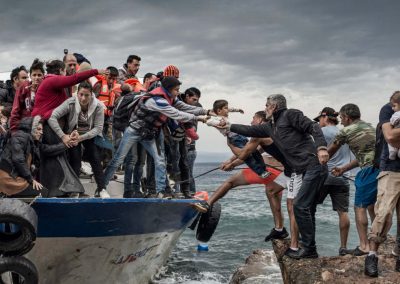 As part of our capacity building work to prepare to help with Afghan refugees as they are resettled into Local Authority areas within the diocese, we have opened a restricted Caritas Afghan Refugee Give as You Live page for donations.
As part of the CSAN Refugee Group, Caritas Portsmouth is now building capacity within the diocese and making connections within other local authorities to deliver specific services.
This is the model that we will be using with our ongoing refugee work where we will be working in partnership with other expert practitioner groups.
Our Caritas volunteers will be able to provide Afghan refugees entering via the ARAP scheme, and other refugees however they enter the UK, specific help as need is identified by the local authorities.
This could be anything from assistance with learning English, provision of material goods, befriending members of the family, accompanying individuals as they join local groups….
If you would like to help with our refugee projects please get in touch with us at: